Milfs Like It Big presents: Ava Austin Bailey sun bathing before sucking on two hard dicks
Storyline: Bailey got a yacht from her recent divorce. She couldn't wait to show it off to her friends Austin and Ava. She invited them over for a little boat ride. The boat captain Johnny and his co-captain Andrew knew that these three incredibly hot milfs were in the mood to party from the moment they saw them on the boat! So they made a plan to get these three big cock craving sluts to "party" with them. Something that these milfs were more than up to!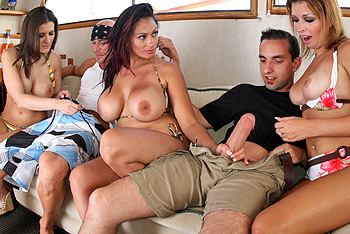 Bailey Brooks, Ava Lauren and Austin Kincaid Milfs Like It Big HD Video Trailer
What people are saying about: Bailey Brooks, Ava Lauren and Austin Kincaid - Yacht orgy! milfslikeitbig scene
Comment #1
Danvamp said: Her "pussy hurts." Get the fuck outta here; her "ego hurts." I know Ava is everyone's favorite and she scores 9s & 10s before her, trailers let alone scenes are viewable, but she is a selfish bitch. She was upset because Johnny was diggin' some next pussy---plain & simple. She gets paid to perform and she came up well short. Bailey was thorough; she came through.
Comment #2
morganistic said: a real shame Ava left. and a shame we didn't see her removing her bikini too. was quite surprised to see her go cos she looked like she was well up for it when she went inside. and how the f*ck does she deep throat him like that? magnificent. i thought she left cos of that first time i saw it. thought maybe she dislodged some nerve endings. anyhow great first few minutes, that'll do me!
Comment #3
MissSnoogans! said: For my money the video got better when Ava left. Bailey has no business on Brazzers. Andrew and Bailey could have been removed also. Johnny and Austin would have done just fine like they started this shoot. I loved it how Austin ass was jiggling in that last position. Her ass banging up against that couch is smoking hot. Snoogans!
Comment #4
Mr_Man said: You guys are the best, but you kind of dropped the ball on this one. Ava just vanished. Ava and Austin together would have been awesome. We got super teased. Re-do the scene for the Ava fans. You guys kick ass, Brazzers keep it up.
Comment #5
ThaCas87-0ab7791efdbc0653064a04f said: This is a good scene but when are yahll going to add this milfs like it big site to the main one so we can get to it are we not going to be able to get this site or what. I think, AVA got mad because she wasnt getting any or she wasnt being included so she walked out not sure but for sure yahll need to get her and lisa ann, johnny sin in one scene together for this site. WAY TO GO BRAZZERS NUMBER ONE PORN SITE ON THE WEB.
Bailey Brooks, Ava Lauren and Austin Kincaid MilfsLikeItBig Picture Gallery