Milfs Like It Big presents: Mommy Lisa Ann fucks a clients big hard cock at her house
Storyline: When Lisa Ann heard Johnny's conversation, she couldn't believe it. It seems that Johnny gives it to his girlfriend so hard that she can't take it and his HUGE COCK won't even fit in her pussy all the way!!! Being the horny BIG COCK LOVER she is, Lisa Ann had to try that cock out so she approached Johnny and convinced him to go home with her and fuck her hard!!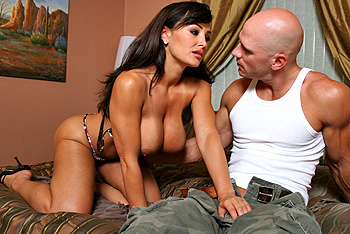 Lisa Ann Milfs Like It Big HD Video Trailer
What people are saying about: Lisa Ann - Rough rider milfslikeitbig scene
Comment #1
Ricman45 said: I've been blowing my cookies for Lisa Ann for so long that I've lost count. That pretty Italian-American face, that gorgeous/big and sexy ass and her all-out passion for sex all make her a true jerk off queen. When it comes to giving head and riding dick, Ms. Lisa Ann is among the best in her field. Just the sight of her makes my woody stand at full attention.
Comment #2
BoneChi said: Since i have a thing for girls on top riding the bone, i now also have a thing for this Lisa Ann MILF. She really knows how to ride a mean dick as the Hedgehog would say, it's just a shame the porn world of sex as forgotten the importance of lube and the viable visual need to see slippery wetness during sex of any kind. Shes hot and it could have been way hotter if only the sex was atleast glistening a tiny bit of wetness for us to see, but it was totally dry to the eyes. How uncomfortable looking it is. Makes it difficult to shoot my jizz... even with a smoking hot one like this. Add the lube people!!
Comment #3
9b4cb said: Lisa Ann is such a turn-on. This is an awesome milfs like it big scene and Johnny really makes it happen as well. I love the way she kept telling him how he could hurt a girl with his big cock as he was pounding her. Then she took it slow all the way in and out as she talked dirty. Very sexy. She looked so fucking hot totally naked and laying on her back as Johnny licked her and then fucked her with his hot cock. Definitely need a lot more Lisa Ann on here. One of the hottest babes ever. Please............
Comment #4
PistolPete said: Just a site suggestion. Maybe you should add links to the guys scenes too. I aint gay, but i like to see the girls fucked good, not waste my time with people that cant use their blessed manhoods, or are just so ugly its completely unrealistic when theyre fucking a hot girl! For example- johnny sins is the shit! Respect man!
Comment #5
Nacho_Boobie said: Fuckin A, Brazzers, you guys are really on a roll these past few weeks! With chicks like Nikki Benz, Lachelle Marie, Rachel Roxxx, Eva A, Brittany A, Brooke Belle, Audrey B, Mindy Main, Sunny Lane, Carmella Bing, Kinzie Kenner. That's some crazy hot 'tang there. These girls should be in a regular rotation of updates for Brazzers, it's a fuckin' dream team. Keep up the good work guys!
Lisa Ann MilfsLikeItBig Picture Gallery