Milfs Like It Big presents: Nina Hartley takes her big dick home and fucks it hard
Scene Title: In search of the perfect package
Storyline: Nina is a MILF starving for a big dick. After leaving her husband because he had a small weiner, she posts an ad for a man with larger assets and only one guy replied. Lucky for Nina this guy was equipped with a massive package.The big dick craving MILF wasted no time bringing the young man back to her place as she worshiped his big dick like a woman deprived of it for years! And boy does she get it hard...just the way shes been longing for!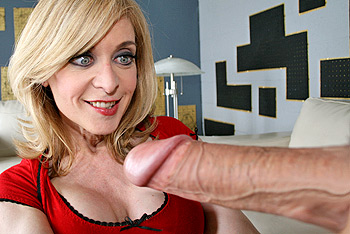 Nina Hartley Milfs Like It Big HD Video Trailer
What people are saying about: Nina Hartley - In search of the perfect package milfslikeitbig scene
Comment #1
gather said: I would love to see more of this actress. It blow my mind that her rating is so low. I think she is the most convencing actress on this site. She is mature, her body is not suppose to be perfect. With alot of the other milf on this site I have trouble even imagining their over 30. To me Nina is the perfect milf!!! rating 10+
Comment #2
carlbrad121 said: Nina is still an exceptionally attractive woman. Yes, she has a preggo belly and the cottage cheese thighs, but she still has that world famous, and world class ass, and she knows how to work it. Nina is still a better actress than most and plays it to the hilt. I say more Nina!
Comment #3
17e9a said: Nina Hartley got me through puberty... she was the "Ass Goddess" of the 80's. She is still in better shape than almost all of the 35 year old women that I see hanging around the beaches in Hawaii or the pools in Vegas. I disagree with the idiot morons who have made negative comments about Nina... if my wife still looks and fucks like this at the age of 48, I will be a very happy man, but guys who don't get laid very often (sexual partner is their left/right hand), will never understand this.
Comment #4
energy221 said: Nina's a legend. She goes back to the old days of porn. I'm talking Johnny Wadd, John Leslie, Jamie Gillis, Andrea True, Annette Haven. Johnny Wadd's dead. The rest are still alive, but are in no shape to fuck before a camera. Nina can still do it. She's the fuckin' Kathrine Hepburn of porn. Okay, maybe she doesn't have what the younger porn stars have. But, she's still Nina Hartley. She can still fuck. She'll forever be a legend.
Comment #5
MissSnoogans! said: Ok after seeing this I have always talked up the Living Legend Nina Hartley but it's time to hang up. Where did that fucking prego belly come from? You would think she would have tried to be in positions that didn't show all that. It was good while it lasted but even Michael Jordan had to hang it up. Snoogans!
Nina Hartley MilfsLikeItBig Picture Gallery