Milfs Like It Big presents: Rhylee Richards fucks her daughters boyfriends big huge dick
Scene Title: No Dick Too Big
Storyline: Mrs. Richards daughter couldn't take her boyfriends cock anymore, it was too big and stretching out her pussy. They unfortunately broke up, but Mrs. Richards wasn't gonna let a young man like Ralph get out of her hands, this milf needs a big dick... Ralph knows how to deliver.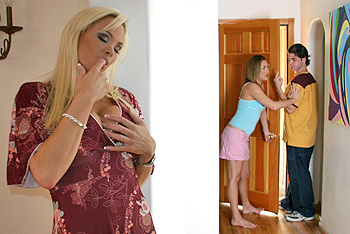 Rhylee Richards Milfs Like It Big HD Video Trailer
What people are saying about: Rhylee Richards - No Dick Too Big milfslikeitbig scene
Comment #1
evilrobbie said: I only found out about Rhylee a few months ago & so glad i found her films here. She is such a sexy & sensual woman. Nothing sexier than a beautiful woman that knows what she wants & enjoys doing it. I'd love to date her. One can only dream. :-)
Comment #2
YaMeansSon said: Rhyse and Rhylee do scenes together and the one I saw was great, Rhylee but Rhyse gives me better energy good scene but I am sick of looking at Ralph... even his names says.... I Suck and no one should like me. We get it with the new guy please no more. Thanks for the scene Rhylee but get rid of Ralph Givem D
Comment #3
water001 said: I expected so much from this milfs like it big scene from the general impression that the trailer gave....... though the scene did not deliver. I'll admit it she is a hot little thing but the guy needed to take control of the situation and just bang the shit out of her... which just didn't happen. Overall decsision Rhylee is hot but needs to shut up as I dont pay for a running commentary, if she spent half as much energy fucking as she did talking this would have been one of the best scenes ever. Also I don't know who hires these bitches but get her hair seen to man, her names Rhylee not Kunta Kinte i.e. we dont want the little skunk style roots at the top.
Comment #4
70008 said: What is wrong with the body ,camera man??? Director of the scene, were not just a face and tit people, for the lay man, when we are going to fuck, after the pre-lem, I don't know of any man that start fucking by spooning, cow-girl , or on there knees, I think that most Men maybe not all Men, but I am sure that most of us put a woman or girl on there (BACK), with there LEGS wrap around our back, were do you see this in this segment, just head shots to her pussy, were not Ray Charles, we can see, Please give us something to look at, this is our fantasy.
Comment #5
MissSnoogans! said: Gwen makes her acting debut. YIKES! Rhylee is okay but if Misty Vonage doesn't stand out. Neither does Rhylee. Let's get to the root of the problem(pun intended). I have seen Jordan on here three times. He would have been good for this scene. Only so much I can take of Ralph per day. His cum shot sucked compared to the one he gave Rachel. Smoking hot orange babydoll at the end. Snoogans!
Rhylee Richards MilfsLikeItBig Picture Gallery